Although coupler is just one of many parts of scaffold, it plays an important role in the safety of scaffold. About scaffolding coupler, people have a lot of confusion. For example, what is the function of scaffold coupler? What is the size of the coupler?

What are the main components of scaffolding?
What is the function of scaffold coupler?
What are the dimensions of the scaffolding coupler?
How do you determine what kind of scaffolding you need?
Conclusion
What are the main components of scaffolding?
Scaffolding is used to provide support for workers and structural support for the building itself when construction is carried out on the building. Materials such as metal pipes or pipes are commonly used to form the backbone of scaffolds, as well as plates and couplers. There are several types of scaffolding, but they are all made up of the same basic elements, even if they are designed differently.
The basic scaffolding elements are divided into three general components: beams, ledger and standards. The standard is a long pipe or pipe that extends along the length of the scaffold and connects the whole scaffold directly to the ground. The baseboards serve as standard supports for each because they are attached to the base and help with weight distribution and support.
The ledger is placed horizontally between standards, improving weight distribution and adding further support. The beam has various forms and is placed at right angles on top of the crossbar. There are middle and main beams. While the main beam supports the plate and the standard, the middle beam provides additional plate support from their position and the main beam.
In addition to the above, there are many other supporting elements that support the basic scaffolding. These include additional couplers, elevation supports and cross supports, all of which can be used in various combinations to support the structure in various ways.
Cross bracing is used to improve the overall stiffness of the structure as they are firmly attached to the standard and run diagonally between the ledger. They can also be attached to the ledger as a ledger stand. As for the facade supports, they are fixed to the surface of the scaffold and to each level to prevent structural sway.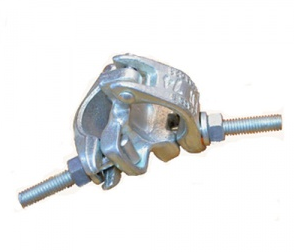 What is the function of scaffold coupler?
A coupler is an accessory used to hold the pipes of a scaffold together. They are used to link structural elements. There are different types of couplers that can be used to connect the beam or ledger to the standard or ledger to the beam.
Couplers can be made of a variety of materials, including plasma - cut steel, forged steel, etc.
The connector is used to fix the rail on the guide rail bearing to maintain the gauge and prevent its opposite vertical and horizontal movement.
Good scaffold connectors are always considered to be designed with fewer coupler system accessories for easy installation and disassembly.
Choose durable, flexible, high-strength connectors that connect rail and rail bearings securely.
Due to the flexible requirements of concrete sleeper, the flexible connector for concrete sleeper die is recommended
The strong scaffold connector capability is basically used to assemble the basic parts of the scaffold, where the circular tubes used as the standard, bracket or tie are connected together by specially designed connectors.
There are three basic types of couplers, including rotary couplers, putlog couplers and right-angle couplers. A casing coupler, also known as a casing or end - to - end pin, is used to connect pipes. In addition to these three main types, there are several other types and sizes on the market. You may have heard of semi-couplers, butterfly couplers and so on.
What are the dimensions of the scaffolding coupler?
Rectangular coupler. In buildings, rectangular couplers are standard for adding transformers. Depending on your specifications, these types of connectors can come in various sizes, including 48x48, 43×43×48, 48×60, and so on.
Rotate the connector. They are handy for creating custom angles, which means they can connect two pipes at any Angle. The foot and hand tube rotary coupler can be used to tighten the connection between the two tubes properly. However, their main application is to place diagonal or cross braces between vertically aligned pipes.
Pratt coupler. Some call it single hook, mainly for the transverse connection 杄 and rail, to strengthen the scaffolding. These types of couplers are generally considered scaffolding suitable for light movement because they cannot support so much weight.
Of the three main types of connectors mentioned above, it should be noted that only double connectors and rotary connectors are ideal for "load-bearing connections." The sleeves
A connector or connector pin is used to develop an end-to-end connection between two scaffold tubes.
Sleeve coupling. These are primarily designed to connect two scaffold pipes externally at both ends. However, the steel separator has a central position to ensure that each tube is inserted evenly into the other tube. They are important where tensioning joints are needed and can be used effectively for long bracing and sorting pipes.
How do you determine what kind of scaffolding you need?
Just determine how high you need to stand. You may need to measure it because you want to be accurate and guessing is not the best way to solve the problem. This is often referred to as "platform height". We refer to all listed platform height packages. This is the actual or very close to the height of your feet. "Working height" is usually calculated by adding 6 feet to the height of the platform. Once you have the height, you need to decide how long you want it to be. The more, the better. All our packages come in standard sizes of seven feet long. The width is normalized to 5 feet, but we do offer narrow packaging for special or "tight" areas. So our basic platform is 5 feet wide and 7 feet long. This is the area where you must move and work. If you want a longer work area, the increment is 7 feet. So the next length is 14 feet. And so on... 21 feet... 28 feet... 35 feet. And the same thing happens at this height. Think of scaffolding as building blocks (or your child's lego set) that you can stack in a group or "block" on top of the next one. For our 5x5 suite, which is 5 feet high by 5 feet wide, add 5 feet to each set.
Conclusion
Scaffold coupler anti-rust, anti-slip, high breaking strength, durable surface and reliability, low maintenance and corrosion resistance. Before you purchase a scaffold coupler, make sure it has been carefully tested. If you are looking for a reasonably priced, durable high quality scaffold coupler, Nanjing Tuopeng Construction Technology can provide you with the perfect product.